Are you a Lifelong Learner?
Learning is a continuous and Life-Long process.
When I hear the above line, it immediately sparks the story of Nokia.
In 2007 Nokia has a Market share of around 12.6% while in 2013, the Market share is just 6%. The Market share has almost been halved.
What will be the reason?
People say Innovation is the one main reason for Nokia's Downfall.
It is not only for Nokia, It is also for each one of us. If we are not Lifelong Learners, we might be kicked out of the Market.

It is much more important to Market ourselves, to achieve our dream and desired career in our life.
One of the ways to reach the Professional is LINKEDIN.
Benefits of adding certification courses to your LinkedIn Profile.

Increase the quality of your profile.
Showcase your expertise in the domain.
Increase your Social Selling Index.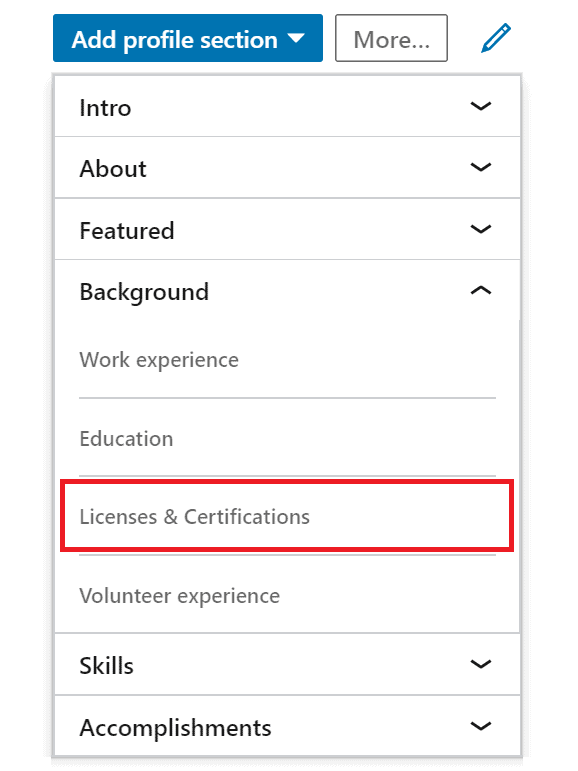 How to add a Certificate to LinkedIn Profile.


To add a certificate, you are required to follow a four-step process:

Step 1: Go to the LinkedIn website, click on the "Me" section in the top right corner, and then on the "View Profile."

Step 2: Now you're at your profile page. Open the "Add profile section."


Step 3: You will find different categories once you open that section. Click on the "Recommend" and "Add licenses and certifications."

Step 4: In the last step of the process, fill out the corresponding fields and certifications to your profile!

The following information would be required to update:
Name of the certificate/license
The issuing organization
The issue and expiration date (if applicable)
Credential ID and Credential URL (optional)
Also,
say about the Certification / Course in your description:
Why did you do this course?
Your major takeaways
What is so different after completing that course.
Why should somebody take it
You can also tag your instructors
Do not forget to use relevant hashtags, so that it reaches more people.
Later update the skills you've acquired in the skills section
Update your courses section that you've completed this course